'Music brings emotion to a film – by removing it, the challenge becomes more interesting' – Diederik Idenburg on the film 'Prada for adidas'.
'Music brings emotion to a film – by removing it, the challenge becomes more interesting' – Diederik Idenburg on the film 'Prada for adidas'.
'This is an example of incredibly detailed and honed sound design, used in combination with well-styled imagery to create a film that is both fun, immersive and sonically very pleasing.' – Prada for adidas, composed by sound designers Diederik Idenburg and Stephan Bakker from MOST, received a Silver Lamp at this year's Dutch Creativity Awards in the Craft – Sound category. As the Jury pointed out in their feedback, the larger-than-life sounds in this film create a truly immersive experience that is not only captivating but highly impressive. We chat with Diederik to see how the creation of the film came about, what surprising elements they used to create certain sounds and where he sources his inspiration.
A huge congratulations for receiving your Silver Lamp! Was it a big surprise on the day when your award was delivered?
Thank you so much. It is not every day you get to work on a project like this – big brands collaborating, international production, created with people from around the globe who are on top of their game. When these talents join forces and put in all their love for the craft, you get amazing results. Since the level of execution was high on all aspects, it made me also go the extra mile. After seeing the end result I had a very strong feeling that the project could win a Lamp for Sound. So it did not come as a total surprise but I am super happy and proud to receive industry recognition for it!
It is clear that the level of precision of the sound in this film is incredibly high – how did this process go? Was it an easy collaboration with the client?
I have worked with the director, Lernert Engelberts, for over 10 year. Over the years we have developed a deep level of creative understanding. He trusts my vision so I can just follow my gut feeling when creating music and sounds. After seeing the storyboard for this project, I talked with Lernert and prepared a folder with sounds to use in the edit. Everybody was working from London while I, together with my partner Stephan, was working from the studio in Amsterdam. I was in close contact with the editor, sending files back and forth, sculpting sounds for all the scenes. We tried many options for each of the sounds and slowly but surely it all fell into place. At some point, Academy Films flew me over to London to be with the team and to do the final mix together in a studio over there. Being able to not be the engineer, to sit back and just listen to every detail, trying a few last things and finalising the mix alongside the director and the creatives, was amazing. It was a lot of hard work but all in all the whole process went pretty smoothly. Everybody was super happy in the end and I really enjoyed working on it.
In your application to the Dutch Creativity Awards, you mention that the sounds you used were sourced from different and sometimes unexpected sources – could you explain what these sources were?
I always keep folders of sounds I find or record for no particular reason because they just sound nice to my ear. I found some nice sounds in there. Furthermore we searched files from the sfx databases, recorded foley sounds ranging from combs to brushes to shoes, chairs, wheel carts etc. I also recorded sounds with my modular synth.
As the jury stated in their feedback, 'the juxtaposition of miniature props and gigantic sounds is very fun' – was it always the plan to use sounds to create this effect or did you also think about using music?
The idea was to not be too serious and achieve some sort of playfulness. So it was always the idea to make the sounds larger than life. We also tried music. I wrote a piece for the film but at some point Lernert asked me to take it out because he felt the emotion steered the film into a direction that just didn't feel right. After taking the music out it brought back the simplicity of the film. All the sounds could then be heard perfectly so we had to focus even more on the details. From the music track, I kept an ambient layer from my modular synth in the mix. You hardly notice it but it gives the general atmosphere of the film and kind of ties all the sound effects together.
You have recently released a second film with Prada and adidas – did this materialise because of the success of the first film or was the collaboration always intended to be extended?
Yes. I worked on that one a few weeks after the first one. But the film was put on the shelves for a while because of the whole C-thing. There was even a third one that involved a lot of work but that got killed in the end…
What was your favourite element of the project?
I love the wheels of the carts in the film since the sound comes from recording my own desk chair I sit on every day. So each time I roll with the chair it reminds me of the carts in the film.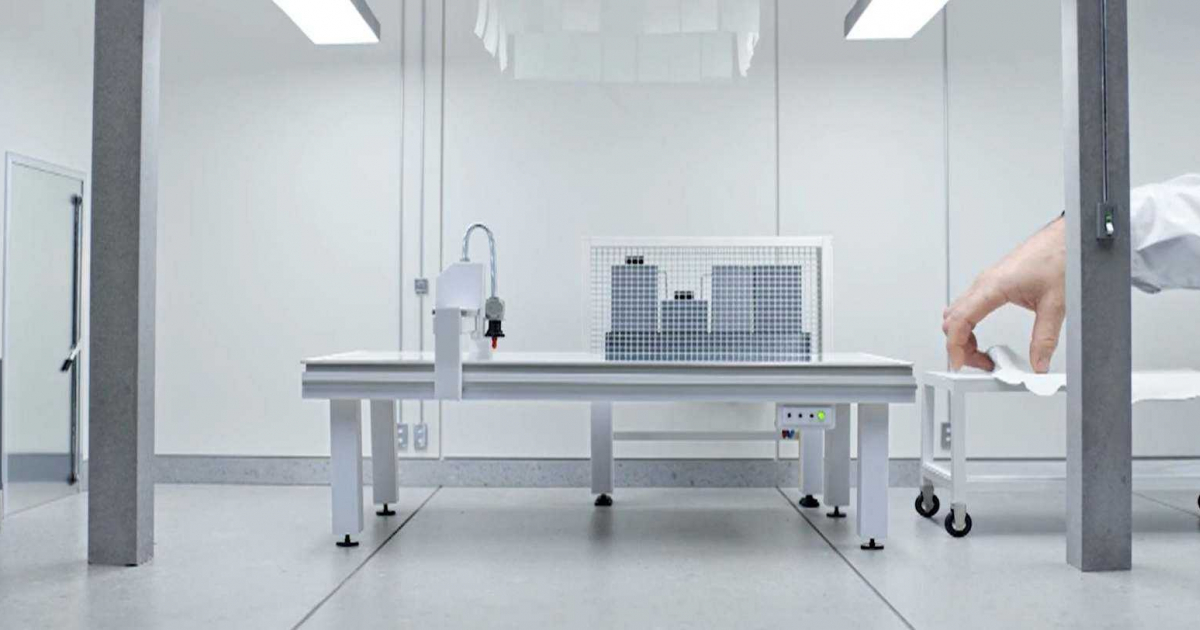 What's the first thing you do when starting a new project?
I talk with the director or the creatives to get a general idea about the film. I read the storyboard and after that ideas start to pop up. That could happen anywhere. Sometimes I browse through some old tracks for inspiration, or hear a track or sound and get an idea. At some point I start to create and it all just flows from there.
How do you get creatively inspired?
I am not forcefully trying to get creatively inspired. It just happens. I obviously listen to music a lot, I love to go to museums, be outside in nature etc. So inspiration can come on a walk, from hearing a sound of a bird or sounds in the city. Sometimes I get ideas for a melody whilst biking and I sing them into my phone (I'm a bad singer so I have to laugh when I listen back to these spontaneous recordings). In the studio, I have a lot of different instruments and machines that I jam with a few times a week. I record these jams and put them in a folder and when a project comes in, I always browse through that folder and try a few of those tracks. Sometimes I find something that works as it is or I use elements from it, and other times I just start from scratch. Strangely enough it sometimes happens that one of the older tracks works better than when I compose something new – maybe because it was created without overthinking too much.
Best piece of advice?
Follow your heart, trust in yourself and just keep going. Bit of a cliche but true for me since I never studied for the work I do. After studying to become an accountant (lol) I just decided to follow my love for music and sound instead of accepting an offer from a big accounting firm. Without planning, I soon found myself in the advertising business. I learned a lot about music and sounds for ads, and one thing led to another and 20 years later I am still here enjoying what I do. In the beginning of my career I always felt I lacked the proper education to do what I do. I felt I did not deserve to do this kind of work but because of this lack of education and my deep love for music and sound, I figured out everything by myself. Trial and error. This led to finding my 'own voice' or however you want to call it. It took some time to fully embrace that voice and see my 'lack' of formal education as a strength instead of a weakness.
What can we expect next from MOST?
There is a big new project in the pipeline (I cannot talk about it because of the NDA). That looks amazing since it will involve creating a lot of project specific sounds so I'm really looking forward to that. We are also rounding off projects with director Andreas Pasvantis from Halal, a film with Wouter Stoter/New Ams, and a film with FromForm. We are very fortunate to still have enough work.
Read more about Prada for adidas in our Digital Awards Gallery and read the full Jury Feedback Report here.