Dutch Creativity Festival 2019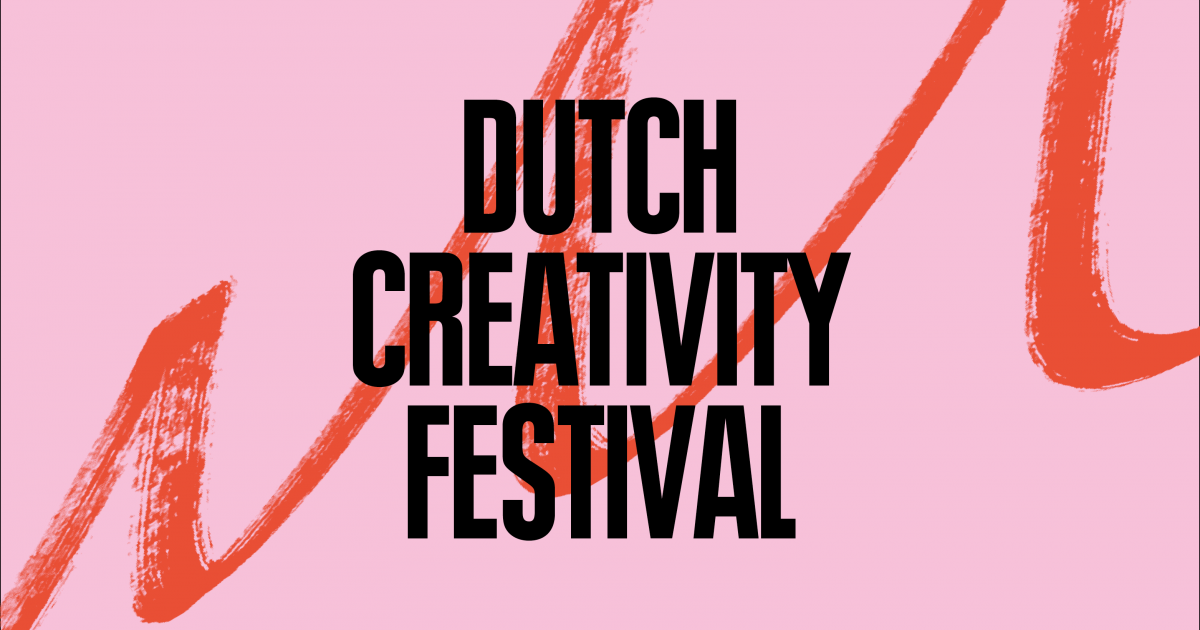 AN EXPLOSION OF CUTTING EDGE CREATIVITY
The Dutch Creativity Festival unites the leading creative thinkers, makers, curators, entrepreneurs, studios, agencies, brands, platforms, NGO's, in all disciplines and fields. Educational and playful, your creative thinking and skills will be stimulated and your curiosity will be rewarded.
Prepare to connect with and learn from creative minds and an eclectic program across our stages and rooms, together with the people setting the creative agenda in 2019 and beyond.
Doors open
Friday 13:00 - 23:00
Saturday 09:00 - 19:00
Schedule sessions
Friday 15:00 - 21:00
Saturday 11:00 - 17:00

Please note: Training sessions might require additional registration. All other sessions are on a first come first serve basis.
SPEAKERS
Marcel Wanders
Frankey - Natwerk
Bas van de Poel - Space10
Andrew Spitz - Frolic Studio
Job Roggeveen - Job, Joris & Marieke
Mischa Rozema - PostPanic
Jordy van den Nieuwendijk
Jeroen van Erp - TU Delft
Michele de Bruyn - Codam
Samir Bantal - OMA
Borre Akkersdijk - BYBORRE
Esther Beckers - Philips Design
Inge Philips-Bryan - Deloitte
Jasper Udink ten Cate - Creative Chef Studio
Erik Kessels - KesselsKramer
Jonathan Bikker - Rijksmuseum
Jaap Biemans - Coverjunkie & Volkskrant Magazine
Frans Hasselaar & Michel Nadorp - Donald Duck (Sanoma)
Martijn Pater - Fronteer
Alice Haugh - UNStudio
Hansje van Halem - Hansje van Halem Studio
Jochem van den Berg - De Speld
Kirsten Algera - MacGuffin Magazine
Jeroen Barendse - RNDR
Wesley ter Haar - MediaMonks
Marije Vogelzang - The Dutch Institute of Food and Design
Cece Wyldeck & Brian Barth - MassiveMusic
Lee Stuart - Patta
The New Originals
Sacha Polak
Jason Steere - The Student Hotel
Hanneke Metselaar - 72andSunny
Eric Quennoy & Mark Bernath - Wieden+Kennedy
Gabriela Sanchez y Sanchez - Vlisco&co
Patrick Leenheers - THNK School of Creative Leadership
Christoper Noort & Stan Haanappel - Studio Dumbar
Saskia Maas - Boom Chigago
Gunifort Uwambaga - MENDO
New Amsterdam Film Company
More speakers & full session info to be announced soon. Keep an eye on dutchcreativityfestival.nl!
Program
MASTER SESSIONS
Learn from the vision and experience of creative masters in advertising, design, arts, technology, architecture and other disciplines.
CRAFT SESSIONS
Dive into the creative process of the finest craft makers in film, music, illustration, photography, writing and other crafts.
TRAINING SESSIONS
Participate in a short course to grow your creativity skills tutored by leading institutes and organizations.
FUTURE SESSIONS
Explore how today's innovators shape tomorrow's creative future in e.g. cities, food, living, mobility and other fields.
BEDROOM SESSIONS
Get a room for an intimate and interactive session with innovative brands, media, studios and agencies.
LAB SESSIONS
Co-create ideas to solve real challenges with a mix of creative experts, design thinkers and business innovators.
EXPO
Take a look at all the work nominated for this year's Dutch Creativity Awards and meet with creative talent from the best academies.
Collaboration with The Student Hotel
ADCN and The Student Hotel are co-hosting the Dutch Creativity Festival in September. With a shared passion for creativity and design, - and as respective platforms for creative talent - we believe in facilitating future generations. That's why The Student Hotel's hybrid co-living and co-working spaces cater to the insatiably curious; those who appreciate ever-learning, are unafraid to fail and always challenge the norm.
We welcome you to The Student Hotel.
Stay curious.
Find out more about The Student Hotel, co-working space TSH Collab and The Commons Restaurants
FOUNDING PARTNERS
Heineken, Exterion Media, KPN, DPG Media, Viacom