Odd Publications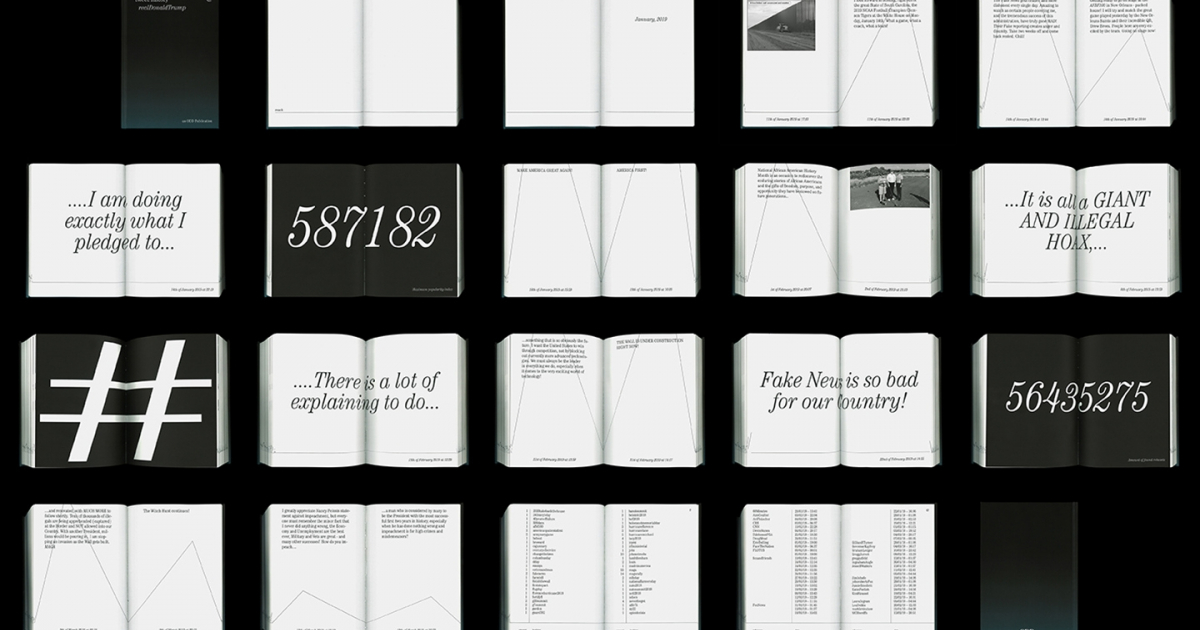 An emerging publishing house that re-purposes the ephemeral nature of Internet data into tangible objects of printed form. It was founded by a programmer and a graphic designer both later to be named. We are driven by information and powered by code.
Our books are not just a direct copy of content. We do not seek to emulate platforms and simply print what is online on a book. On the contrary, we oppose emulation and embrace transformative processes. This means that we actualise ways on which data can work conceptually and aesthetically in a printed page.
We explore the consequences of printing and preserving opinions, which are ephemeral by nature, and play with the irony of creating books that quickly become obsolete, given the exponential speed on which online content is generated every day.
Ours is a form of critique to the popular notion that the book is dead; We comment on the sheer amount of information produced every second, which yields shielded and unknown behind the fugacity of a webpage. We believe that, by shifting the context of a tweet, an emoji, a post, or a comment, we can gain insight into our rapidly changing online culture, as well as revealing ways on which the printed form can be further explored.
Additional
It seems absurd to try and preserve such data in a printed medium, as it essentially becomes obsolete after a few hours of publication (perhaps even seconds for massively popular sites). Nevertheless, our intention is to gain insights on the nature of information.
In his book The Information: A History, A Theory, A Flood, James Gleick writes: "When information is cheap, attention becomes expensive". In other words: the more information we have access to, the less we learn from it.
Our idea is centred around social media. As pilot projects, we have produced software that gathers content from any online account of either the YouTube, Twitter or Whatsapp platforms and automatically creates a book, which is representative of the user's opinions, reactions and posted content, over specific periods of time. These are books meant for hard-cover publication using the print-on-demand model. They are carefully designed to highlight inherent properties of content originally meant for the Internet and play with the quantifiable nature of data to offer a peculiar representation of information in literary form.
We have initiated a series of projects that use data from various Internet platforms for the automatic generation of books. These seek to re-evaluate our relationship with digital information and to re-purpose online content into analog forms.
We offer a novel form of literature and different modes of reading the World Wide Web. Our methodology is to construct new meanings and narratives via generative design applied to books. We use algorithms for extracting information and exploring aspects of graphic design and typesetting that otherwise would not be attainable.
Our initiative is based on the print-on-demand phenomena, which originated with the idea of offering single-printed, personalised books. We are interested in creating literary forms on demand, based on the online content of a user. We do this by accessing their online persona's and gathering data for the creation of literary collections of different sorts.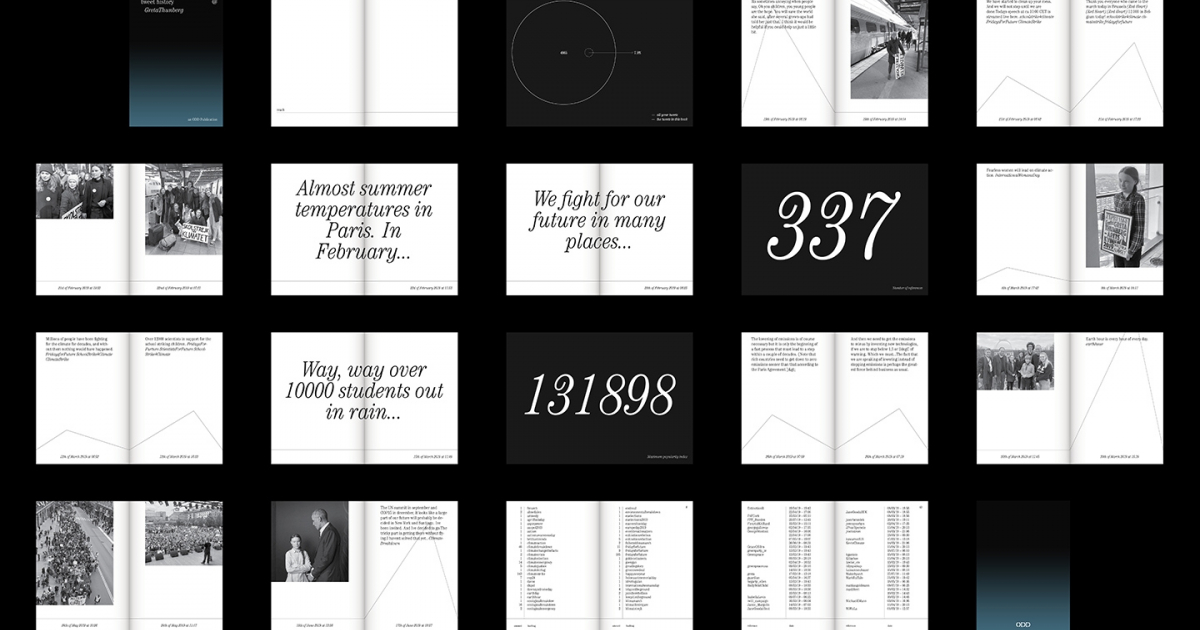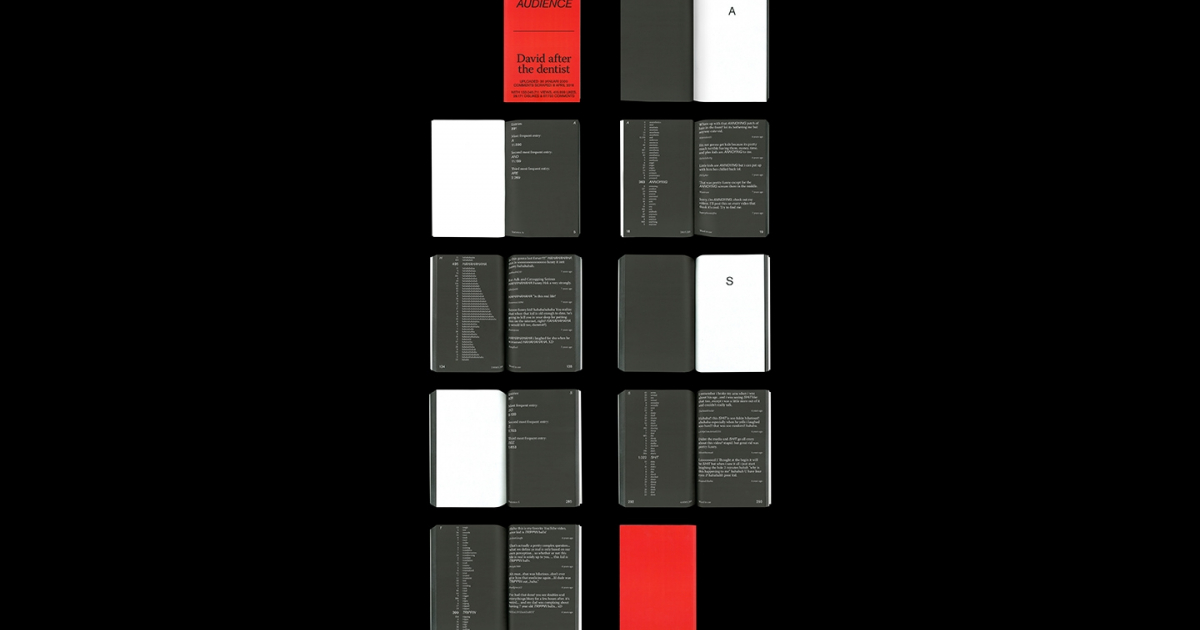 Jury Feedback
NEXT - SIDE-PROJECT / NOMINATION
The jury sees an extraordinary, seemingly intuitive translation of the digital web that can be overwhelming at times. The use of meta data and cross-connections without it being for commercial purposes feels fresh and abstract. The print-on-demand concept makes for a unique publication each time, inspires reflection and creates a sort of diary beyond your own control. The jury appreciates the blend of disciplines and the artistic use of unspeakable information streams. The idea does ask for some investment for those interested to comprehend, maybe there is a better way to communicate the project more clear? #nicework!