adidas - 100% Unfair Predator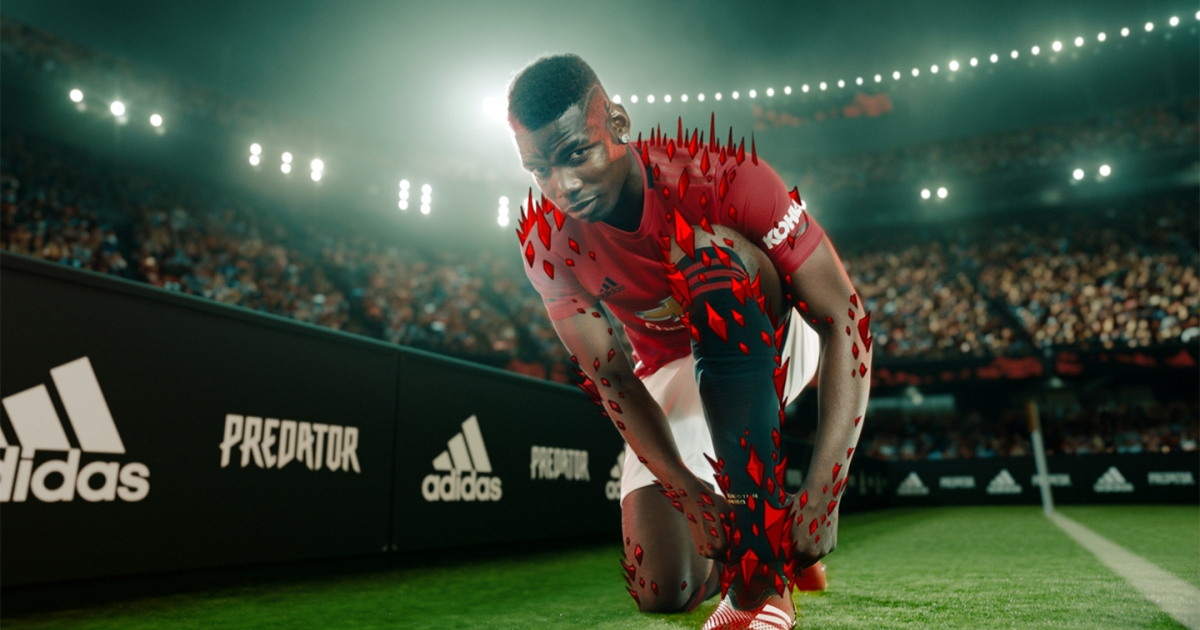 Introduction - Film
Through a 360 global campaign we showed how the Predator boots with 406 spikes and more spin than ever before, give users this unfair advantage. With the help of some of adidas' biggest football names such as David Beckham, Paul Pogba and Dele Alli.
Introduction - Sound
Predator Mutator. The use of an ominous soundtrack and experimental sound design techniques, every second of the product film is designed to grip the viewer and keep them on the edge of their seats as we reveal the product, feature by feature.

Relevancy - Film
Gen Zs are born into a world that's far from fair and equal. They are constantly confronted by headlines of discrimination and inequality and are forced to deal with issues inherited from their predecessors. Led by the likes of Greta Thunberg and Malala Yousafzai, Gen Zs have learned that there is nothing to be gained from sulking about how unfair life is, but to proactively create change.
Gen Zs are embracing this attitude also on an individual level. In a culture with a short attention span, mixed with the craving to stand out, Gen Zs see a need for constant skill development in order to stay relevant. To succeed in this ultra-competitive world, they must take every opportunity to turn unfairness to their advantage in sports and in life.
Unlike other generations, young footballers of today see unfair advantage not just a fair play, but something to be desired. By framing the new Predator boots as having an unfair advantage, we may just be the object of desire for this generation.
Relevancy - Sound
The innovation behind Predator Mutator is described by the client as "experiment gone wrong". Instead of optimising the existing boot, the boot underwent a mutation that gave birth to its animalistic spikes.
Given that most of our campaign touchpoints are not physical, let alone tactile (this includes instagram posts, youtube pre-rolls or even radio spots), we aimed to evoke the feeling of mutation through other senses. It effectively created intrigue and desire for our audiences to find out what this radically different product looks and feels like.
The motto for crafting our creative idea is "feeling is believing". We looked into visual and sound design that evokes the sense of mutation. The sound was purposefully designed to be slightly off tune and off beat, all to make you feel just uncomfortable enough to pay attention to our product film.
Additional

Not only did we create Hero 60" and 30" films you'd normally expect from an adidas campaign, we created an entire suite of assets that offered multiple ways into the product, player and campaign narratives.
By utilizing adidas social channels and tapping into our player assets phenomenal social reach we launched bespoke assets for players and platforms. When considering this award entry, we would suggest viewing the entire suite of assets submitted.
Idea/Craft - Film
With 406 spikes that give footballers more spin than ever before, Predator Mutator gives all who wear an unfair advantage on the pitch. This gave birth to our idea of '100% Unfair', and a nod to the OG campaign from 1994.
The film takes adidas Football into unchartered territory - moving away from functional advertising, to cinematically charged storytelling to capture the hearts of Gen Z.
Leveraging household names in football including Paul Pogba, David Beckham, and Becky Sauerbrunn, we wanted to demonstrate to Gen Zs that even the athletes they aspire to, would stop at nothing to get an unfair advantage in their game. They always have, and always will.
To authenticate our message of the power of having an unfair advantage to every individual, we personalized the story to each footballer including – David Beckham, now retired wishing he had Predator during his heyday; and Marc-André ter Stegen, participating in a goalkeeper crisis meeting whilst foreseeing a career off of the field.
Idea/Craft - Sound
The use of an ominous soundtrack and experimental sound design techniques, every second of the product film is designed to grip the viewer and keep them on the edge of their seats as we reveal the product, feature by feature.
The sound was written to convey the "predatoristic" feeling of unease and suspense, building at just the right moments while using more delicate notes at other moments. Having that as our foundation, we then carefully mutated certain notes and beat to acoustically bring the "mutation" story to life.
To add further depth and richness to the sound design, we challenged ourselves to translate the different features and benefits of the boot into sound. Questions include what would extra spin on the ball sound like? Or what would spikes erupting through the skin sound like?
We captured these sound effects by physically interacting with the boot, such as, combing the 406 rubber spikes of the boot It even made our hairs stand on end!
Briefing - Film
Remember when in 1994, the launch of adidas Predator had the football world at a standstill? The boot instantly became an object of desire amongst young football players in the late 90s. However, Predator's position as a game-changer slowly eroded over time.
In 2020, Predator underwent the biggest mutation since it was first introduced way back when. It will be relaunched as Predator Mutator, now with 406 thorn-like spikes grown across the forefoot, giving you 10% extra spin with every kick and more control than ever before.
So the brief was to revive the Predator franchise and re-introduce Predator Mutator as an object of desire. But this time, amongst young Gen Z Football players, as well as the OG fans out there.
Briefing - Sound
The birth of Predator Mutator was described by the adidas Football innovation team as "experiment gone wrong". The smooth upper of the previous Predator boot has mutated into one that's pierced with 406 animalistics spikes, which promises to mutate a player's entire game by giving you more spin with every kick on the ball than ever before.
As the majority of the campaign deliverables lent themselves to visual product-porn, we questioned what could the medium of film let us do with sound? With a combination of sound & visuals, film has the power to create a greater sensorial experience and make people really feel what it's like to be mutated by the Predator Mutator.
So our brief was to create an even deeper, more exaggerated sense of mutation, and the effects the technology has on players and the ball. By creating a "mutated" yet "predatoristic" soundscape, we could bring players and fans even further into our Predator world.
Jury Feedback
ADVERTISING – FILM / NOMINATION
Adidas has a decent track record when it comes to advertising. Especially when it comes to the introduction of a new shoe. Positioning The Predator as an unfair shoe is a smart and clever idea. The film leans towards comedy but combines it with Manga-like animation and very slick images of all the stars that Adidas has in his stable. This makes this film different from others. Playful but dead serious.
However, the jury judged that the execution could have been a little stronger although they really liked the idea. Especially if you compare it with films in the previous years that have used a similar form. The jury felt the execution of the scenes was sometimes a bit too easy and predictable. Therefore no more than a deserved Nomination.
CRAFT – SOUND / NOMINATION
This sound design marries very well together with the film. The sounds have been perfectly crafted, truly bringing to life the transitions and materials. Very well done. The jury was very much impressed with the creators ability to bring texture and the character of the Predator to life using sound design. Very well crafted sound design that worked highly effectively with the film. Much deserving of a Nomination.